Wonders of The World- The Aftel Archive of Curious Scents
When I heard Mandy Aftel was opening up her curiosity scent vault I about lost my mind. She and Foster Curry, her husband and business partner, opened the Aftel Archive of Curious Scents in 2014. It's been a long time coming but I made it! I got to be here, almost four years later… and it was a dream come true! Bucket list check off point! Here are some mega highlights and smells from my visit to this magnificent wonder of the world!
Smelleth thou must… all ye who enter here!
Beautiful lab equipment from the yonder years.
A darling collection of fragrant photographs. Keepsakes and sentimental longing.
It's a portal to another, intriguing time. Aftel's exhibit-amassed with the help of obscure eBay search terms, longstanding friendships with collectors, and deep library dives- include a taxidermy civet (prized for its pungent glandular secretion), roasted Onycha shells (included in a Biblical recipe for incense), and a century-old perfumer's kit rescued from a Paris attic. But there's plenty more than meets the eye. For example, there a new iteration of Aftel's prized perfume organ: a custom-built Douglas Fir shelving unit that houses dozens of far-flung aromatics, including tiare gardenia from Tahiti, exorbitantly prices Oud, and, yes, Douglas Fir. An exceptional display deconstructs the scent of rose- a complex bundle of aroma chemicals- into its key isolates. And her latest perfume, Curious, a musky composition inspired by the Archive, is broken into top, middle, and base "chords" in an effort to demystify the process of blending.- text by Laura Regensdorf, Vogue Magazine
Animalics for all! Featured here is Hyrax, Civet and Onycha shells. Onycha shells are a common ingredient in the Biblical incense mixtures. Onycha is an ancient Greek word for "Finger Nail". This is the door membrane of a snail-like mollusk found in the Red Sea and imported from Oman. It gives a marine like, animalic smell. Exquisitely unique!
Pictured above: A deconstruction of a rose, a break down of Mandy's perfume entitled, "Curious" and below are my favorite smells from her perfume organ. Her letter pressed scent strips are the ultimate cool!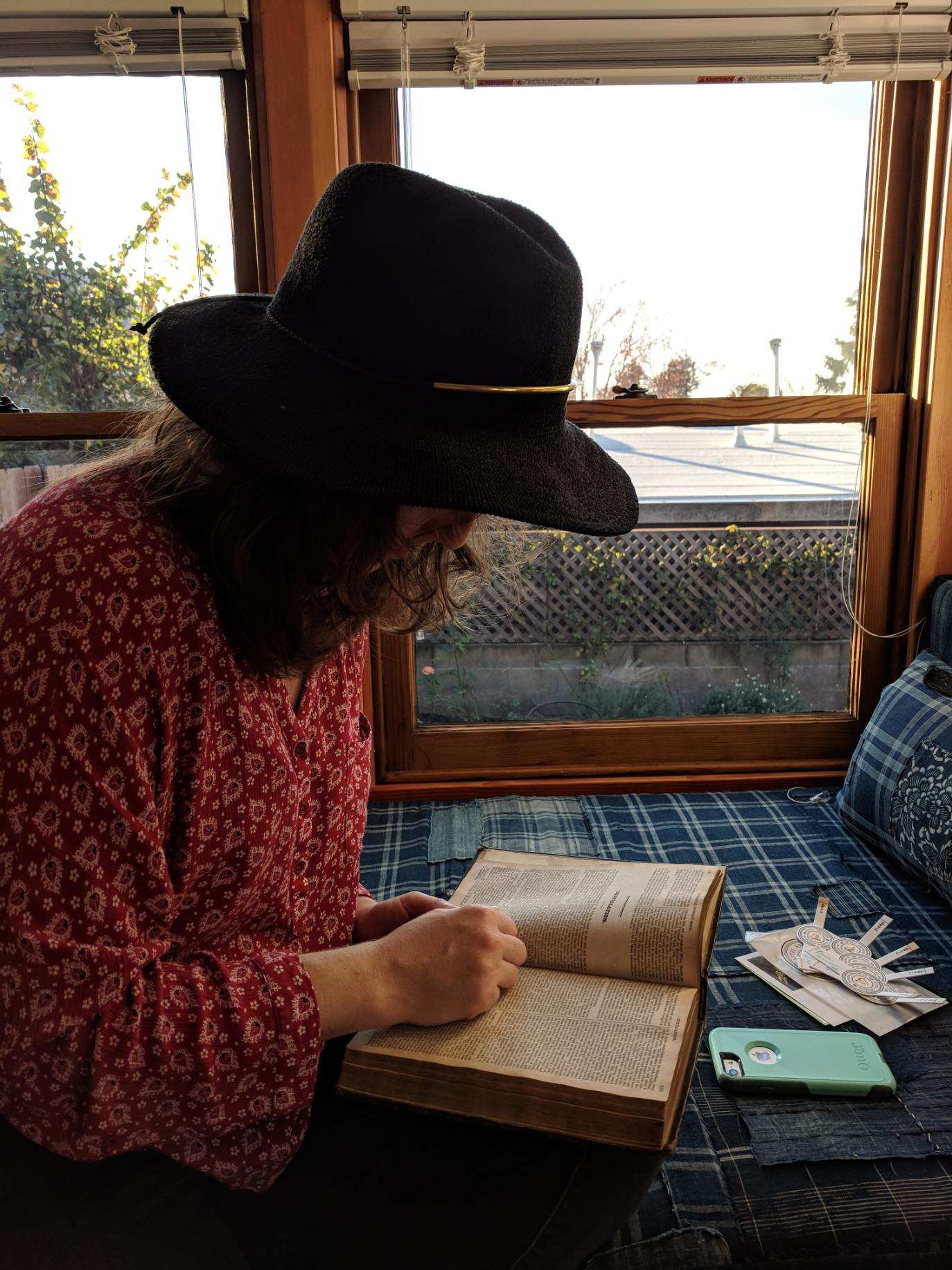 The chill out spot while you read about centuries of olfactive endeavors.
Mandy's collection of books about all things aromatic and is truly remarkable. I could have been at this spot for a a lifetime.
A last farewell look back.